by Karen Paul, Senior Design Manager
This summer I celebrate 25 years of working with Oberlander Group. This is quite a milestone and I've been reflecting on where I (we) have been and what the future holds. It has been a wild ride.
When I graduated from college with my BS in Graphic Design in 1986, I was armed with basic illustration, photography, design and hand rendering skills for client comps (seen above in my college marker drawings). I learned how to spec type for a typesetter, how to use a STAT camera, and do a basic mechanical layout. I was on the cusp of the digital revolution with no computer experience.
In the fall of 1986 I got my first job and started working on the Macintosh Plus which had 1MB of RAM and an 800 KB floppy drive, and I was off and running!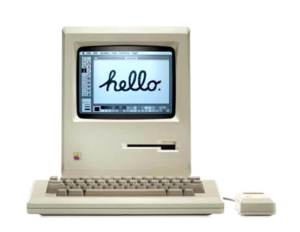 I started with Oberlander in 1991 and have worn many hats over the years. I have to admit that I do not miss the mechanical paste-up, the exacto knife, the hot waxer and spray mount, the hours of mockup and comping, or retouching film. In case you missed the fun of this process, here's a little video. Transitioning to the digital way of working has made me more flexible as a designer. I learned on the job in the real world, where new technology and client deadlines collide!
Think about all the ways we communicate today: brochures and direct mail, websites, email, social media, blogs, and podcasts. When I started working most of these media channels did not exist.
As marketing and branding evolve into more integrated, personalized communications, the need for a solid graphic design foundation is more essential than ever. That foundation relies on organizational, visual, and story-telling skills and is at the very heart of all communication. It offers strong brand recognition (internally and externally), effective messaging, and creativity.
One of the things I'm most grateful for in my years at Oberlander is the chance to work with the creative people who are my colleagues. I am proud to be a part of this company, which has award-winning designers, creativity, flexibility, and a focus on personal service that is very special.
It is exciting to look back at the last 25 years together even as we look forward. New ways of communicating with design arise every day.
The Future's So Bright, I Gotta Wear Shades.